Posted on: February 18, 2014 | By Maigal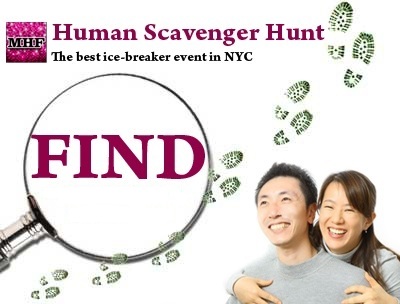 Want to do something different besides drinking?  Do you have the Indiana Jones in you? If the answer is yes, your adventure starts on Thursday, February 27th at 6pm at Amber Kips Bay Lounge for the MHF Human Scavenger Hunt Party where you will have a chance to find your very own treasure. So please come out and join the fun. Whether you are single and ready to mingle, or looking to grow your circle of friends or just…looking to meet new people or simply, you just want to have a drink, this party is for you.
Here's how it works:
Everyone that comes to Amber Kips Bay Lounge will be given 3 cards with 3 specific task. Your job is to look for a specific person who can fulfill your task in order to win.  FREE shots will be giving to anyone who fulfilled all 3 tasks and find all 3 treasures.
Some examples of what men have to find:
* Find a girl who who can give you a lap dance.
* Ask 5 girls for their phone number.
* Tell 10 girls that you are in love with them.
Some examples of what women have to find:
* Find a guy who has a condom in his wallet.
* Find a guy with a six pack.
* Find a guy who can do 50 push ups
LOCATION:
Amber Kips Bay at 381 Third Ave (bet 27th and 28th st)
Time: 6PM to 10PM
AGE: 21+ to play
DRESSCODE:
Ladies – Dress provocatively upscale
Gents – Business casual welcome!
ADMISSION:
Ladies: First 30 FREE with ticket, $10 after
Gents: $10 with ticket til Feb 26th, $15 after
$20 at the door
Order tickets via Eventbrite:
http://www.eventbrite.com/e/mhf-human-scavenger-hunt-happy-hour-tickets-10603325833?aff=efbevent
Kindly RSVP on eventbrite for admission. Please contact us at [email protected] if you have any question.
Join our page on facebook or Meetup group for future events.
Comments