Posted on: February 18, 2014 | By Maigal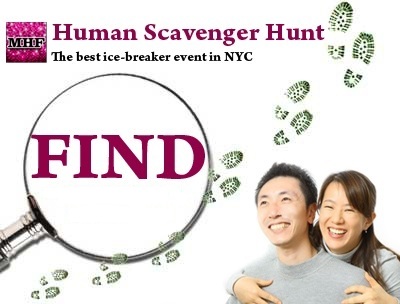 Want to do something different besides drinking?  Do you have the Indiana Jones in you? If the answer is yes, your adventure starts on Thursday, February 27th at 6pm at Amber Kips Bay Lounge for the MHF Human Scavenger Hunt Party where you will have a chance to find your very own treasure. So please come out and join the fun. Whether you are single and ready to mingle, or looking to grow your circle of friends or just…looking to meet new people or simply, you just want to have a drink, this party is for you.
Here's how it works:
Everyone that comes to Amber Kips Bay Lounge will be given 3 cards with 3 specific task. Your job is to look for a specific person who can fulfill your task in order to win.  FREE shots will be giving to anyone who fulfilled all 3 tasks and find all 3 treasures.
Some examples of what men have to find:
* Find a girl who who can give you a lap dance.
* Ask 5 girls for their phone number.
* Tell 10 girls that you are in love with them.
Some examples of what women have to find:
* Find a guy who has a condom in his wallet.
* Find a guy with a six pack.
* Find a guy who can do 50 push ups
LOCATION:
Amber Kips Bay at 381 Third Ave (bet 27th and 28th st)
Time: 6PM to 10PM
AGE: 21+ to play
DRESSCODE:
Ladies – Dress provocatively upscale
Gents – Business casual welcome!
ADMISSION:
Ladies: First 30 FREE with ticket, $10 after
Gents: $10 with ticket til Feb 26th, $15 after
$20 at the door
Order tickets via Eventbrite:
http://www.eventbrite.com/e/mhf-human-scavenger-hunt-happy-hour-tickets-10603325833?aff=efbevent
Kindly RSVP on eventbrite for admission. Please contact us at [email protected] if you have any question.
Join our page on facebook or Meetup group for future events.
Posted on: January 22, 2014 | By Maigal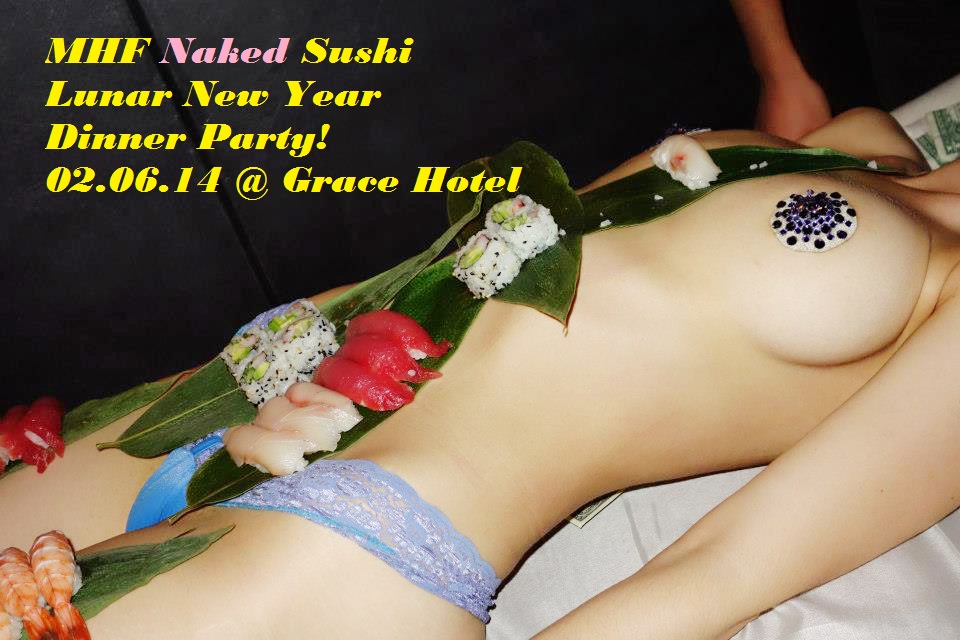 "Gong Hay Fat Choi" everyone! Let's celebrate Lunar New Year with food, music, drinks, .. and NAKED Sushi. Thats right, Naked Sushi. Let's eat off sushi from a Super HOT naked model. Not only that, we have a Burlesque show that's going to heat you up this Winter.  Please join us on Thurs. Feb 6th at the Grace Hotel Lounge. All are welcome.
FREE Catered authenic Chinese food, desserts and delicious sushi for everyone.  Please come on time for food.
Reasons to come to this event:
HOT Naked Sushi model – ever eat off a naked girl? (8-9pm)
Sexy burlesque show
Sushi, rolls, appetizers, chinese food, and desserts for everyone (7pm-9pm)
Enjoy great music, drinks and a great way to meet young professionals in NYC
Bonus: We have access to the pool, co-ed sauna and co-ed steam room in the Grace Hotel.  For those who wants to use it, bring your swimsuits.
Admission:
All sales final/ NO REFUND/ Prices are subject to change.
$35 til Jan. 26th /  Group Package for 5 – $165
$40 after Jan. 26th
At the door price:
$50 at the door
Order tickets via Eventbrite:
http://www.eventbrite.com/e/mhf-naked-sushi-lunar-new-year-2014-dinner-party-tickets-10083073745?aff=efbevent
Venue : Grace Hotel Lounge
Website: www.room-matehotels.com
Location: 125 West 45th Street
Date: Feb 6th 2014
Time: 6:30pm – 10pm
Age: Must be 21+ to enjoy this party.
Dress Code:  (Prefer everyone to wear a touch of red for Chinese New Year)
Ladies Dress provocatively upscale
Gents Business casual a must
CONTACT US IF YOU HAVE A LARGE GROUP OR YOU WANT TO CELEBRATE YOUR BIRTHDAY WITH US on Thursday.     EMAIL US AT  [email protected] for more info.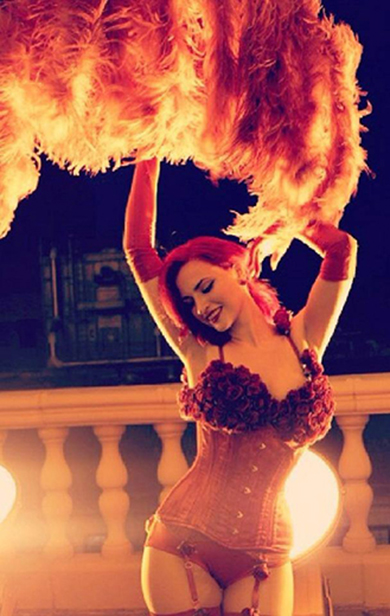 Burlesque performance by Lady Alchemy
Posted on: July 1, 2009 | By Maigal
Asia Society
725 Park Avenue, NY
Asia Circle Cocktail Evenings at Leo Bar
www.asiasociety.org/support/specialevents/leobar/
The Asia Society holds a cocktail night the first Friday of every month at the Leo Bar, located on the 1st floor of the Asia Society from 6 to 9 pm.  The events are touted as networking gatherings where you can also tour the gallery from 7:15 to 7:45 pm.  These functions are a nice place to chat and interact with a more refined Asian crowd.  This group tends to be more diverse than other Asian gatherings.  In general, the individuals who come here are intelligent, working professionals.  You will meet a lot of Asians in the finance, accounting, medical and law professions.  Usually, a good balance of guys to girls.  The vibe is pretty conservative at these events.  You'll fit right in if you enjoy talking about your work history and your career.  The crowd can feel a little stuffy, but that comes with the territory when attending a cocktail party.   The dress is business casual to business formal as almost everyone here comes directly from the office.   There is a cover to attend these events in the range of $10 to $15, which includes a museum admission pass.  There is a small cash bar that features moderately-priced beer and cocktails.  These events are good for networking, and if you're on the hunt for a more career-minded man, could be a good destination for you.
Posted on: July 1, 2009 | By Maigal
YesYas
Promoter: Eric Bang
I have been to a few of the Yesyas events, most recently at the Beekman Hotel and Leela.  In general, all of Eric's events will include a cover for both men and women ranging from $5 to $15.  Occasionally there will be a short period of time when ladies can get in free, but in general the group charges per head to collect their fees.  The drinks at this event are never happy hour price.  If you do go, make sure you have enough money to pay for full-price drinks.  These events tend to attract a little younger crowd than Oriented and New York Asian Professional, age range 21 to 35 but it also attract a lot more men than women, with the recent gig at Leela probably drawing more than twice as many guys than girls.   While some of you ladies out there may think that's wonderful, unfortunately most of these men were on the shorter side – I would say about 5 foot 7 on average. This group attracts primarily Asian professionals with a wide age range.  The only problem I have with this group is that they don't offer many drink specials.  If you are in the mood to have a few drinks and be surrounded by roving groups of men then a Yesyas event would be a good option for you.  I will continue to check out their future events, and will provide updates if I feel the crowd dynamics have changed.
keep looking »